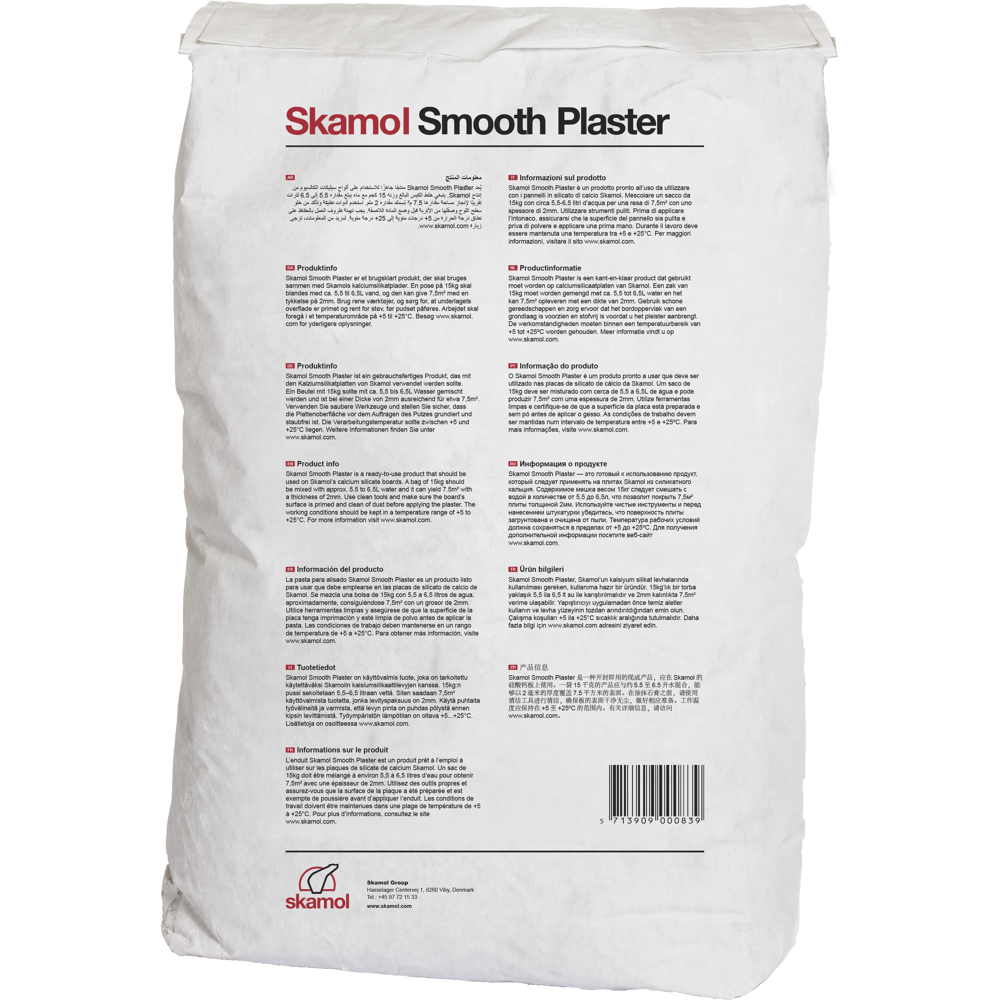 Skamol

Smooth Plaster

Skamol Smooth Plaster is a ready-to-use smooth plaster to be used together with the calcium silicate SkamoWall Board.

A 15kg bag must be mixed with approximately 5.5L to 6.5L of water, yielding around 7.5m² with a thickness of 2mm.

Use clean tools and make sure that the surface of the substrate is primed and free of dust before applying the plaster.

The work must be carried out within a temperature range of +5°C to +25°C.

Store the product in the original packaging in a dry and dark place. Protect against moisture and negative temperatures.
Remove dust from the surface of the mounted SkamoWall Board.


Apply Skamol Primer to the surface of the SkamoWall Board.


Wait approx. 30 minutes for Skamol Primer to dry.


Mix the Skamol Smooth Plaster in a ratio of approx. 6L of clean water per 15kg bag.


Pour 4L of water into a mixing bucket.
Add the entire contents of the Skamol Smooth Plaster bag while stirring vigorously.
Add the remaining water (about 2L) to the mixture until the desired consistency is achieved.
Stir vigorously for at least 5 minutes.
Let the mixture rest for about 15 minutes and stir again until the mixture is completely smooth and free of bubbles.
After mixing, the Skamol Smooth Plaster can be used for approx. 1 hour.



Apply Skamol Smooth Plaster with an 8mm notched trowel to achieve an even thickness of between 1.5mm and 4mm.


Level the Skamol Smooth Plaster.


If desired, the hardened Skamol Smooth Plaster can be sanded lightly and a new layer of 1.5mm to 4mm Skamol Smooth Plaster can be added on top of the existing Skamol Smooth Plaster. This can be repeated until the desired result is achieved.
Bag contents
15kg

Size of bag
400 × 250 × 120mm

Yield
7.5m²

Storage
Store in a cool and frostproof place.

Contains
Portland cement
Calcium hydroxide
UFI code 31S2-308K-500F-NYKM
Causes serious eye damage.
Causes skin irritation.
May cause respiratory irritation.
May cause an allergic skin reaction.
If medical advice is needed, have product container or label at hand.
Stored out of reach of children.
Wear protective gloves/protective clothing/eye protection/face protection.
If in eyes:

Rinse cautiously with water for several minutes.
Remove contact lenses, if present and easy to do.
Continue rinsing.
Immediately call a poison center/doctor.

Dispose of contents/container in accordance with local regulations.
Contains a reducing agent which reduces soluble chromium VI.
The reducing agent is active when stored in a dry place for 12 months after the stated packing date.
When stored in moist conditions, e.g. on construction sites, the chromate neutralisation will wear off.
Packing that has been opened should be closed tightly after use, and the product should be used as soon as possible.